NewPoint Provides $93 Million Bridge Loan for the Acquisition and Renovation of a Multifamily High-Rise in Atlanta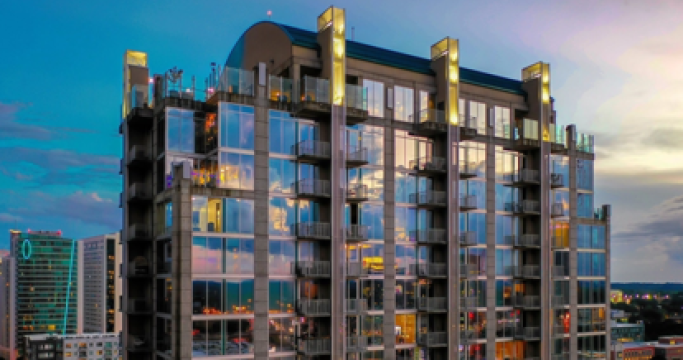 ATLANTA (March 25, 2022) – NewPoint Real Estate Capital LLC ("NewPoint") announces the closing of a $93 million bridge loan used to facilitate an acquisition for The RADCO Companies, an Atlanta-based owner-operator specializing in repositioning multifamily communities throughout the Southern U.S. The NewPoint proprietary bridge loan financed the purchase and proposed renovation of Skyhouse Midtown, a 320-unit, 23-story high-rise that RADCO rebranded as The M by Radius post-purchase.

"RADCO has a deep track record of transforming multifamily properties to create value for both residents and investors, and the repositioning plan for The M by Radius was an ideal fit for our bridge program," said Geri Borger Urgo, Head of Production for NewPoint. "This extremely well-located property will prove an attractive option for Atlanta-area renters, whose preferences are shifting back to the urban core." 
Constructed in 2013, The M by Radius was the first glass-curtain residential high-rise built in Midtown Atlanta. Located at the corner of West Peachtree and 12th Street, the property sits directly across the street from Google's new regional hub and is centrally located with proximity to Buckhead and Downtown Atlanta. Floorplans are split across studio, one-, two- and three-bedroom units with balconies, floor-to-ceiling windows and upmarket finishes. Amenities include a rooftop pool, outdoor lounge and kitchen areas, 24-hour fitness center and a community room. The high-rise also features attractive ground-floor retail space strategically poised for tenancy to benefit both residents and the submarket alike.
"It was a pleasure working with Geri and the entire NewPoint team to finance our acquisition of what is now The M by Radius," said Lisa Hurd, Chief Investment Officer for RADCO. "In addition to their accretive financing structure, NewPoint efficiently executed this substantial transaction in a relatively short time frame. We look forward to our continued partnership on this and other projects."
NewPoint's ability to tailor its offering complemented RADCO's vision and investment thesis for the property. The interest-only bridge loan features an attractive floating rate with an initial two-year term and three one-year extension options. Loan proceeds contemplate future funding for capital improvements focused on upgrading unit interiors, amenities and building mechanicals.
NewPoint launched its balance sheet bridge program in December 2021 and has seen great enthusiasm from the investor community. The nationwide program targets loan sizes of $10 million to $100 million with terms of up to five years. All bridge loans are serviced in-house, and exit fees are waived if permanent debt is provided by NewPoint.  

About NewPoint Real Estate Capital
NewPoint Real Estate Capital LLC (NewPoint) is a prominent commercial real estate finance company delivering lending solutions to investors of multifamily, affordable housing, seniors housing, healthcare, and manufactured housing properties nationwide. NewPoint leverages technology, data, capital, and the expertise of its industry-leading team to provide loan origination, servicing, execution, and a suite of Agency and curated proprietary products to meet the evolving needs of borrowers. In addition to being a Fannie Mae DUS®, Freddie Mac Optigo®, and FHA/HUD MAP and LEAN Lender, NewPoint also offers bridge financing. Launched in 2021, NewPoint is a joint venture of Meridian Capital Group, LLC, the nation's leading commercial mortgage brokerage, and Barings LLC, one of the world's leading investment managers.
Contact:
Stefan Pollack
The Pollack Group
stefan@pollackgroup.com
310.780.2364
Elyse Bandel
NewPoint Real Estate Capital
Elyse.Bandel@NewPoint.com
917.447.0143